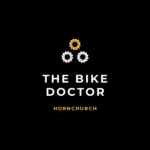 Book Your Winter Cycle MOT For Just £35
At Bike Doctor – Hornchurch we want to celebrate you hardy souls that are carrying on riding your bikes through these cold, dark, winter months!
We all know winter can be VERY hard on our bikes so we would like to offer you a full winter MOT for just £35!
Here is what is included…….
Bike fully cleaned and protector applied
Brakes and gears checked and adjusted as required
Headset, bottom bracket and hubs stripped, re-greased as required and bearings inspected
Chain, chainrings and cassette cleaned and checked for wear
Tyres/tubes checked for wear/damage
Frame/handlebars/stem/seatpost all checked for damage
Notification/replacement of any worn out/damaged parts (replacement parts charged extra)
Exceptional service and going out of… Exceptional service and going out of hes way to ensure my bike was rideable before the christmas break.
Bike service Thanks for the service on my bike. The gears now change as good as new.
Joeworski Manalac
2021-09-28
Great service Great service, sound advice, soild job!
Very good service and support Easy to arrange. Gave my bike a full service, was very helpful, identified possible future issues and gave advice. Thanks
Sebastian Meißner
2021-09-02
I had quite a few problems with my bike… I had quite a few problems with my bike and Michael was able to fix everything within a day. He is very pleasant to deal with. Overall great service - highly recommend.
Very honest and knows exactly what he's doing. I got my road bike serviced on the 23rd August 2021. He done an excellent job. My bike had a few problems but now it feels like new. He is a very honest and truthful person. I'm not going anywhere else to service my bike.
First rate customer experience Swift, efficient, friendly service, coupled with high-quality, freely-given advice. It is a pleasure to deal with someone who understands from experience the needs of the customer, and who takes pride in being conscientious.
Excellent Bike Service Booked my bike in for a service with Mike as I had the Bolton Ironman in 2 weeks time. Service was excellent, gave me peace of mind I wasn't going to have a mechanical on the big day. Mike also resolved an intermittent brake disc rub issue which had been driving me mad for the past year. 100% recommend.
Very pleased with the service provided… Very pleased with the service provided by Michael from initial contact to bike collection
Bike Service Friendly, simple and cost comparitive bike service. Will use again and have no hesitations recommending.